Seeker by Arwen Elys Dayton is the BIG title from Random House this spring. The book was optioned back in 2013 by Columbia Pictures. School Library Journal says "Fans of Veronica Roth's Divergent, Marie Lu's Legend, and Suzanne Collins's The Hunger Games series: your next obsession has arrived." And Publisher Weekly continues the praise with "In this powerful beginning to a complex family saga…Dayton excels at creating memorable characters."

To top that all off, Seeker has an AMAZING COVER that totally caught my eye. AND as I was snooping around on Arwen's web page, I found this fun post she did aboutScottish Castles included in the book! So who wouldn't want to check out this book?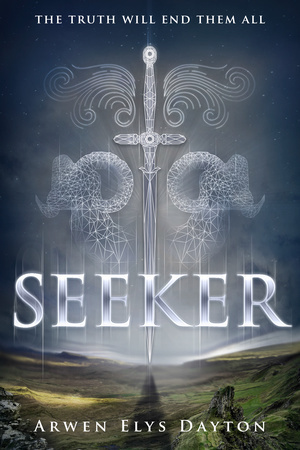 Title: Seeker
Author: Arwen Elys Dayton
Published: February 10, 2015 from Random House
Synopsis: 
Quin Kincaid has been put through years of brutal training for what she thinks is the noble purpose of becoming a revered 'Seeker'.

Only when it's too late does she discover she will be using her new-found knowledge and training to become an assassin. Quin's new role will take her around the globe, from a remote estate in Scotland to a bustling, futuristic Hong Kong where the past she thought she had escaped will finally catch up with her.
About The Author:
Arwen Elys Dayton spends months doing research for her stories. Her explorations have taken her around the world to places like the Great Pyramid at Giza, Hong Kong and its many islands, and lots of ruined castles in Scotland.

Arwen lives with her husband and their three children on the West Coast of the United States. You can visit her atarwendayton.com and follow @arwenelysdayton on Twitter and Instagram.



Arwen will be heading out on a 5 city tour two days after the release of Seeker. Be sure to support the event bookstore, call and pre-order your copy so it's waiting for you the night of the event! Cannot make an event? Contact one of these awesome indie booksellers and pre-order your signed copy!


2/12/2015
VILLAGE BOOKS
1200 11TH ST
BELLINGHAM, WA 98225-7015
4:00pm
Confirmed

2/17/2015
RED BALLOON BOOKSHOP
891 GRAND AVE
SAINT PAUL, MN 55105-3008
6:30pm
Confirmed

2/18/2015
THE BOOKSTALL
811 ELM ST
WINNETKA, IL 60093-2236
5:00pm
Confirmed

2/24/2015
WORD
123 NEWARK AVE
JERSEY CITY, NJ 07302-5869
7:30pm
Confirmed

2/25/2015
BOOKS OF WONDER
18 W 18TH ST
NEW YORK, NY 10011-4607
6:00pm
Confirmed




First 5 bloggers who repost/reblog this post about the Seeker Tour will get an ARC of Seeker form Random House! Tag us on Twitter or leave a comment with a link to your post. Blogs that do not correctly note PageTurnersBlog as the original source of this post will be disqualified.
PageTurnersBlog was the original source!