So, I am not going to go into great detail of each book since there is so fudging many… but I have a lot, so there is that.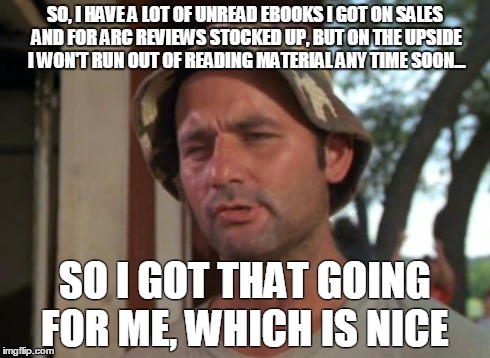 So let's get started!
So the first three are the first three in a series by Miss Gail Carriger!
So we have Etiquette & Espionage, Curtsies & Conspiracies and Waistcoats & Weaponry!
Now originally I had already owned this as ARCs from NetGalley, but I have been following Ms. Carriger for a while on Twitter. She is a pretty swell lady. When I saw these on the Kindle Daily Deal, I had to grab them up to help support her!
Here is the synopsis for Book One:
Fourteen-year-old Sophronia is a great trial to her poor mother. Sophronia is more interested in dismantling clocks and climbing trees than proper manners–and the family can only hope that company never sees her atrocious curtsy. Mrs. Temminnick is desperate for her daughter to become a proper lady. So she enrolls Sophronia in Mademoiselle Geraldine's Finishing Academy for Young Ladies of Quality.
But Sophronia soon realizes the school is not quite what her mother might have hoped. At Mademoiselle Geraldine's, young ladies learn to finish…everything. Certainly, they learn the fine arts of dance, dress, and etiquette, but the also learn to deal out death, diversion, and espionage–in the politest possible ways, of course. Sophronia and her friends are in for a rousing first year's education.
This series sounds WILD. Like, dead on WILD. I already own Soulless by her as well, and plan on grabbing both of the series soon in physical editions. =]
Next on the plate is:
The Sin Eater's Daughter by Melinda Salisbury
Synopsis:
Seventeen-year-old Twylla lives in the castle. But although she's engaged to the prince, Twylla isn't exactly a member of the court.
She's the executioner.
As the Goddess embodied, Twylla instantly kills anyone she touches. Each month she's taken to the prison and forced to lay her hands on those accused of treason. No one will ever love a girl with murder in her veins. Even the prince, whose royal blood supposedly makes him immune to Twylla's fatal touch, avoids her company.
But then a new guard arrives, a boy whose easy smile belies his deadly swordsmanship. And unlike the others, he's able to look past Twylla's executioner robes and see the girl, not the Goddess. Yet Twylla's been promised to the prince, and knows what happens to people who cross the queen.
However, a treasonous secret is the least of Twylla's problems. The queen has a plan to destroy her enemies, a plan that requires a stomach-churning, unthinkable sacrifice. Will Twylla do what it takes to protect her kingdom? Or will she abandon her duty in favor of a doomed love?
Okay, so I had to have this. It was $2.99 for preorder, I even asked for it on edelweiss! (Which by the way, the day AFTER I bought it I was approved!…) It seems like a strange mix of Shatter Me by Tahereh Mafi and some good ol' Fantasy backdrop! Plus it's from one of my favorite publishers, soooo… ❤
Next one was actually gifted to me by the absolutely wonderful author and friend of mine, it's Inked by Eric Smith!
Synopsis:
Tattoos once were an act of rebellion.
Now they decide your destiny the moment the magical Ink settles under your skin.
And in a world where Ink controls your fate, Caenum can't escape soon enough. He is ready to run from his family, and his best friend Dreya, and the home he has known, just to have a chance at a choice.
But when he upsets the very Scribe scheduled to give him his Ink on his eighteenth birthday, he unwittingly sets in motion a series of events that sends the corrupt, magic-fearing government, The Citadel, after him and those he loves.
Now Caenum, Dreya, and their reluctant companion Kenzi must find their way to the Sanctuary, a secret town where those with the gift of magic are safe. Along the way, they learn the truth behind Ink, its dark origins, and why they are the only ones who can stop the Citadel.
Eric Smith takes you on a high-octane fantasy adventure, perfect for anyone who has dreamed of being different… only to discover that fate is more than skin deep.
I cannot thank you again, Eric. Your book sounds and looks amazing! 😀 Tattoo's are something I have a passion for and one day hope to achieve getting over my fear of needles to get, and magic?! 😀 😀 😀 Thank you again, Eric!
The next book is one that I have been debating for a while, A Natural History of Dragons: A Memoir by Lady Trent by Marie Brennan!
Synopsis:
You, dear reader, continue at your own risk. It is not for the faint of heart—no more so than the study of dragons itself. But such study offers rewards beyond compare: to stand in a dragon's presence, even for the briefest of moments—even at the risk of one's life—is a delight that, once experienced, can never be forgotten. . . .
All the world, from Scirland to the farthest reaches of Eriga, know Isabella, Lady Trent, to be the world's preeminent dragon naturalist. She is the remarkable woman who brought the study of dragons out of the misty shadows of myth and misunderstanding into the clear light of modern science. But before she became the illustrious figure we know today, there was a bookish young woman whose passion for learning, natural history, and, yes, dragons defied the stifling conventions of her day.
Here at last, in her own words, is the true story of a pioneering spirit who risked her reputation, her prospects, and her fragile flesh and bone to satisfy her scientific curiosity; of how she sought true love and happiness despite her lamentable eccentricities; and of her thrilling expedition to the perilous mountains of Vystrana, where she made the first of many historic discoveries that would change the world forever.
Marie Brennan introduces an enchanting new world in A Natural History of Dragons.
This book has been staring at me for MONTHS. I have been eyeballing it, but for some reason I have not grabbed it up. It wasn't until recently that I saw it was on sale and just had to have it. It sounds like a stand up book, and a few friends seem to love it!
And continuing on with the Dragon train… !
Dragon Keeper by Robin Hobb!
Synopsis:
Too much time has passed since the powerful dragon Tintaglia helped the people of the Trader cities stave off an invasion of their enemies. The Traders have forgotten their promises, weary of the labor and expense of tending earthbound dragons who were hatched weak and deformed by a river turned toxic. If neglected, the creatures will rampage–or die–so it is decreed that they must move farther upriver toward Kelsingra, the mythical homeland whose location is locked deep within the dragons' uncertain ancestral memories.
Thymara, an unschooled forest girl, and Alise, wife of an unloving and wealthy Trader, are among the disparate group entrusted with escorting the dragons to their new home. And on an extraordinary odyssey with no promise of return, many lessons will be learned–as dragons and tenders alike experience hardships, betrayals . . . and joys beyond their wildest imaginings.
Okay. At first I was going to grab Assassin's Apprentice, but I saw this and COULD NOT RESIST. I want THIS to be my first Robin Hobb. I love dragons, and this sounds SO FUDGING GOOD.
And now, even more dragon fiction!
Scorched by Mari Mancusi!
Synopsis:
Trinity
" Don't leave me here…"
It starts with a whisper. At first Trinity thinks she's going crazy. It wouldn't be a big surprise—her grandpa firmly believes there's a genuine dragon egg in their dusty little West Texas town. But this voice is real, and it's begging for her protection. Even if no one else can hear it…

Connor
He's come from a future scorched by dragonfire. His mission: Find the girl. Destroy the egg. Save the world.

Caleb
He's everything his twin brother Connor hates: cocky, undisciplined, and obsessed with saving dragons.
Trinity has no idea which brother to believe. All she has to go by is the voice in her head—a dragon that won't be tamed.
I have been DYING to get this. Just by the synopsis alone makes me want to drag my fangs in it haha. Hopefully it lives up to my expectations!
Now, for a shade of blood magic…
Written in Red by Anne Bishop
Synopsis:
As a cassandra sangue, or blood prophet, Meg Corbyn can see the future when her skin is cut—a gift that feels more like a curse. Meg's Controller keeps her enslaved so he can have full access to her visions. But when she escapes, the only safe place Meg can hide is at the Lakeside Courtyard—a business district operated by the Others.
Shape-shifter Simon Wolfgard is reluctant to hire the stranger who inquires about the Human Liaison job. First, he senses she's keeping a secret, and second, she doesn't smell like human prey. Yet a stronger instinct propels him to give Meg the job. And when he learns the truth about Meg and that she's wanted by the government, he'll have to decide if she's worth the fight between humans and the Others that will surely follow.
> blood magic
> getting good praise for more than a year
> lots of buzz words for me
> was a kindle daily deal
I'm in.
And now for a few of the eARCs I have recieved!
First one I almost DIED when I was approved at NetGalley! It is
The Girl at Midnight by Melissa Grey!
Synopsis:
Beneath the streets of New York City live the Avicen, an ancient race of people with feathers for hair and magic running through their veins. Age-old enchantments keep them hidden from humans. All but one. Echo is a runaway pickpocket who survives by selling stolen treasures on the black market, and the Avicen are the only family she's ever known.
Echo is clever and daring, and at times she can be brash, but above all else she's fiercely loyal. So when a centuries-old war crests on the borders of her home, she decides it's time to act.
Legend has it that there is a way to end the conflict once and for all: find the Firebird, a mythical entity believed to possess power the likes of which the world has never seen. It will be no easy task, but if life as a thief has taught Echo anything, it's how to hunt down what she wants . . . and how to take it.
But some jobs aren't as straightforward as they seem. And this one might just set the world on fire.
I saw this and just HAD to take the chance. This is one of my most anticipated reads of 2015, and I clicked request faster than the Roadrunner escapes Wiley Coyote! 😀 Thank you Random House!
And and now thank you's go to the lovely people at Scholastic!
Mark of The Thief by Jennifer A. Nielsen!
Synopsis:
Jennifer A. Nielsen, author of the NEW YORK TIMES and USA TODAY bestselling Ascendance Trilogy, has woven an electrifying tale of greed and power, magic and destiny, and one boy's courage at the heart of it all.
When Nic, a slave in the mines outside of Rome, is forced to enter a sealed cavern containing the lost treasures of Julius Caesar, he finds much more than gold and gemstones: He discovers an ancient bulla, an amulet that belonged to the great Caesar and is filled with a magic once reserved for the Gods–magic some Romans would kill for.
Now, with the deadly power of the bulla pulsing through his veins, Nic is determined to become free. But instead, he finds himself at the center of a ruthless conspiracy to overthrow the emperor and spark the Praetor War, a battle to destroy Rome from within. Traitors and spies lurk at every turn, each more desperate than the next to use Nic's newfound powers for their own dark purposes.
In a quest to stop the rebellion, save Rome, and secure his own freedom, Nic must harness the magic within himself and defeat the empire's most powerful and savage leaders.
I looovveedd The False Prince. I had to request this, the woman is a genius!
And last, but not least, a big thank you to Little, Brown Books for Young Readers for:
My Best Everything by Sarah Tomp
Synopsis:
An Appalachian summer walks the line between toxic and intoxicating in this debut novel about first loves, broken hearts, and moonshine.
Luisa "Lulu" Mendez has just finished her final year of high school in a small Virginia town, determined to move on and leave her job at the local junkyard behind. So when her father loses her college tuition money, Lulu needs a new ticket out.
Desperate for funds, she cooks up the (illegal) plan to make and sell moonshine with her friends. Quickly realizing they're out of their depth, they turn to Mason, a local boy who's always seemed like a dead end. As Mason guides Lulu through the secret world of moonshine, it looks like her plan might actually work. But can she leave town before she loses everything?
My Best Everything is Lulu's letter to Mason–but is it a love letter, an apology, or a good-bye?
This just seems like something I am going to DEVOUR. Moonshine?! Really?! I cannot wait!
Anyways, this will be it for now! I will (try to) post these hopefully weekly, since I have a huuuggeeee backlog. X_X
Is there anything here you have been dying to read? You have read? Your opinions on any of these? Leave them in the comments below and let's talk books! ❤
Haulingly yours,
Reisa